---
Canada Goose and Duck waterfowl hunting outfitters operate hunt north of Winnipeg in the heart of Manitoba Interlake near Delta Marshes and Oak Hammock, which is home to International Office of Ducks Unlimited. The Interlake region north of Winnipeg is known as one of the top staging areas in the world for hundreds of thousands of ducks and geese during the fall waterfowl migration. There is a steady increase in the numbers of both goose and duck due to the late springs and high water levels in Manitoba. Local habitat is ideal for all waterfowl hunts, the fall migration is spectacular and a successful hunt is an everyday occurrence. Manitoba Interlake is renowned for multiple species of waterfowl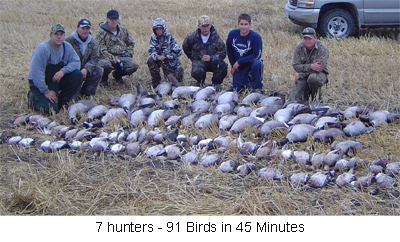 including the Canadian Goose, the Greater Canada Goose and Lesser Canada Goose, Snow and Blue Geese and over a dozen species of ducks including Mallard, Pintail, Blue-Winged Teal, Green-Winged Teal, Gadwall, Canvasback, American Widgeon, and Redhead ducks.
---

We hunt in private fields, which border the Oak Hammock Refuge, as well, as numerous private fields throughout the area. A typical day will begin with hunting for geese over field decoy spreads in the morning with afternoons spent hunting ducks in the fields or at the marshes. Our quantity and quality of waterfowl equipment plays a major role in the hunter's comfort and success of the hunt. For decoys we use a large spreads half-bodied shells, Canadian goose and duck decoys, silhouettes, flags and flyers and windsocks. Magnum Canada goose decoys and goose chairs and Final Approach blinds assist in pulling the birds in for a successful hunt that is challenging and rewarding. Our experience shows that waterfowl arriving from the north are very willing to decoy in the agricultural fields of the Manitoba Interlake area. We control the flocks by continually rotating and resting fields, as we have numerous leased fields and access to thousands of acres of agricultural land. The waterfowl guides are very experienced and knowledgeable with calling tactics and setting up productive decoy spreads to provide you with the best shooting opportunities experience by bringing in the geese and ducks. You package will include three morning goose hunts and two afternoon duck hunts. Accommodations are at modern comfortable facilities right in the heart of the hunting area.
---

| | |
| --- | --- |
| | 3 Day hunt, Monday to Wednesday OR Thursday to Saturday (extra days??) |
| | All meals and modern accommodations during your waterfowl hunting |
| | Guides, game processing and freezing of ducks and geese |
| | Waterfowl license plus all taxes (3 % GST) |
| | Duck and Goose Decoys and all blinds |
| | Transportation during the hunt during your waterfowl hunt |
| | Airport pick-up and return in Winnipeg |
---

Snow geese limits are 20 per day with 3-day limit in possession. Canada goose limits are 3 or 5 per day (depending on area hunted) with 3-day limit in possession. Duck limits are 8 per day with 16 in possession.
---

ACE Wilderness Guiding is owned and operated by Art, Craig and Ellen Henry
---
Art and Craig:
| | |
| --- | --- |
| | Have over 60 years combined hunting experience |
| | Have over 40 years combined bow hunting experience |
| | Are registered Manitoba outfitters since 1992 |
| | Have exclusive hunting access to thousands of acres of agricultural land. |
| | Art Holds 12 records in Manitoba Bow Hunters Record Club Book |
---

View our Photo Album to see some of our Waterfowl Photos.
For information, Dates and Rates on our hunts please phone or Contact Us by email.
---
---
[Back to Top]
---
Box 444 · Woodlands, Manitoba (Canada) · R0C 3H0
Tel: (888) 286-0433 | Contact Us
Copyright © 1992 ACE Wilderness Guiding Manitoba Hunts All rights reserved